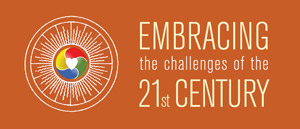 "Love and compassion are necessities, not luxuries. Without them, humanity cannot survive."
― Dalai Lama XIV
Sponsors
For more information please fill out the sponsorship inquiry form. Deadline for sponsorships is Aug. 17. Please fill out the sponsorship inquiry form before that date.
Western Connecticut State University and Do Ngak Kunphen Ling Tibetan Buddhist Center for Universal Peace are so very happy that His Holiness the Dalai Lama will honor the Danbury, Conn., region by giving two public talks during October, 2012.  
His Holiness the 14th Dalai Lama does not charge a speaking engagement fee and no aspect of His Holiness' visit is being used to profit financially. Any funds raised through sponsorships and tickets sales will be used only to cover expenses for these two events. Should there be any surplus funds from His Holiness' events, that surplus will be disbursed to charitable organizations under the advisement of His Holiness the Dalai Lama.
No private or special audiences with His Holiness are scheduled.  Please note there are a limited number of Sponsor Packages available and they will be offered on a first-come, first-served basis. We encourage you to reserve your packages early.
Platinum ($10,000 +) will receive:
4 Platinum level tickets and 2 Gold level tickets to the Thursday, Oct. 18, talk by His Holiness
4 Platinum level tickets and 2 Gold level tickets to the Friday, Oct. 19, talk by His Holiness
6 invitations to a Garden Reception with Gyumed Khensur Rinpoche Lobsang Jampa: Reflection & Discussion of His Holiness' Teaching
Recognition in website and program materials
A book of WCSU conference essays, Creativity and Compassion, Embracing the Challenges of the 21st Century
Preferred parking and entrance line
Gold ($5,000) will receive:
2 Gold level tickets to the Thursday, Oct. 18, talk by His Holiness
2 Gold level tickets to the Friday, Oct. 19, talk by His Holiness
2 invitations to a Garden Reception with Gyumed Khensur Rinpoche Lobsang Jampa: Reflection & Discussion of His Holiness' Teaching
Recognition in website and program materials
A book of WCSU conference essays, Creativity and Compassion, Embracing the Challenges of the 21st Century
Preferred parking and entrance line
Silver ($2,500) will receive:
2 Silver level tickets to the Thursday, Oct. 18, talk by His Holiness
2 Silver level tickets to the Friday, Oct. 19, talk by His Holiness
2 invitations to a Garden Reception with Gyumed Khensur Rinpoche Lobsang Jampa: Reflection & Discussion of His Holiness' Teaching
Recognition in website and program materials
A book of WCSU conference essays, Creativity and Compassion, Embracing the Challenges of the 21st Century
Preferred parking and entrance line
Bronze ($1,000) will receive:
2 Bronze level tickets Thursday, October 18, Talk by His Holiness
2 Bronze level tickets to Friday, October 19, Talk by His Holiness
2 invitations to a Garden Reception with Gyumed Khensur Rinpoche Lobsang Jampa: Reflection & Discussion of His Holiness' Teaching
Recognition in website and program materials
A book of WCSU conference essays, Creativity and Compassion, Embracing the Challenges of the 21st Century
Preferred parking and entrance line